Rushen - Pam Crowe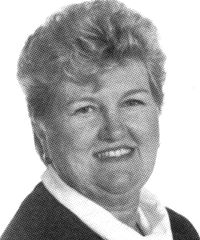 I promise to build on my proven record of success, working hard for the people of Rushen and the Nation of Mann.
Those seeking re-election must stand by their respective records.
This is my record of achievement:
chairman of the office of fair trading

member of the department of trade and industry

member of the department of health and social security

member of the film commission

chairman of select committee on the minimum wage

introduction of proof of age cards for the islands school children

deregulated trading laws that disadvantaged small traders

introduction of the employment sex discrimination act

limited the sale of tobacco to those over 18

legislated to allow local brewers to brew specialty ales

initiated the fair trading amendment bill

provision of a financial services ombudsman
Having achieved so much in my first term my enthusiasm to achieve more in my next term is even greater. The growth of the economy has created one of the most prosperous and productive periods of the islandís history, allowing government to provide more and better public services. Major capital projects have been commissioned; hospitals, schools, sports facilities, sewage and waste disposal schemes, air and port facilities alongside the introduction of new energy sources for the Island. We must continue to develop successful and diverse strategies to maintain and secure our nations future, whilst not diminishing the quality of life that we enjoy.
I support:
the new tax strategy maintaining low taxes

further diversification of our economic base

generous welfare provision for the sick, the elderly and others in need

a quality health service for all

excellence in education and training

reduced energy costs for the island

ongoing development of the islands infrastructure

respect for law and order

strategies to maintain the quality of Manx life
Our island is part of a global economy, we compete for business on the world stage, government must encourage and promote the island abroad, as a well regulated regime with a high standard of probity in which reputable business can flourish. However, I will not lose sight of local issues.
I am proud to have played a part in:
the establishment of a police headquarters in Port Erin

the southern community health centre

24 hour ambulance cover based

At the four roads

the ongoing progression of the

Marina in Port St Mary which

Should be a vital catalyst to

Boost the local economy

In the future i will work for:

affordable public housing in rush en

the provision of more sheltered housing units in Rushen

integrated transport utilising the rail track from Port Erin

extended provision of facilities for young people

completion of the Port St Mary marina

support for specialist tourism

modernisation of the civic amenity site
I stand for an open government that takes responsibility for its own affairs and for the needs and interests of its own people.
As my knowledge has increased so has my enthusiasm to serve the people of Rushen and the Nation of Mann.
I make no brash election promises that I may not be able to keep.
You are assured of my honesty, common sense and hard work, I hope you will allow me to represent you in the future.
Pam Crowe
Please do not hesitate to call me
If you wish to discuss any issues in more detail.
I would be pleased to help if you need transport on election day.
If you are not able to vote in person on polling day please call me for an absent voter or proxy voter form.
834614
496485
836196
498459
Published by Pam Crowe
Printed via the IOM Elections Website. www.iomelections.com
REPRESENTATION OF THE PEOPLE ACT 1995
PLEASE NOTE
The views and opinions stated within this manifesto are those of the electoral candidate and not those of 3 Legs Limited or its staff. Inclusion within this website does NOT represent any endorsement of this candidate by 3 Legs Limited.
3 Legs Limited is politically neutral in respect to this website and its contents. The above text was provided by the election candidate.
3 Legs Limited is not liable for any errors or omissions. E&OE