Peel - Christine Moughtin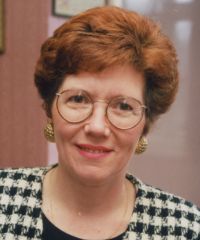 Dear Friends
I, Christine Moughtin, would appreciate your vote for the constituency of Peel in the forthcoming General Election.
For those who do not know me, I am 48 years old, married to David Moughtin, who has his own business in Peel, and we have two children, Sharon and Paul. I am employed by Shoprite (IOM Ltd) as Customer Care Service Manager and have lived in Peel all my life, as have my family.
My political qualifications are that I have represented Peel as a Commissioner for 21 years and I am presently the Chairman of the Board, my third time to be in this very honourable position. During this happy and eventful period, I have served on all the committees and sub-committees and as a result, I have not only gained a wealth of experience in the workings of local authorities, but also how they interface with Government workings and policies.
Promises
This manifesto is not about false promises which I cannot hope to achieve, but it is my pledge to you:
Pledge 1 Peel
De-centralise Government into the community, particularly Peel, actively encourage the finance industry to locate in Peel with the help and assistance of the local Commissioners. Support and encourage small manufacturing industries to locate on a suitable industrial site - this in turn would help rejuvenate local businesses and reduce traffic flow.
Housing
I intend to be vociferous in obtaining funds to continue and further develop the present ongoing, albeit limited, refurbishment programme of local authority housing and actively seek and encourage private developers and Government to build housing in Peel. Heritage Centre
The heritage of Peel is now our future and we must endeavour to explore all avenues to attain a high standard of interest both from tourists and locals, and we have the Heritage Centre and The Leece Museum. Peel Heritage Committee's foresight and commitment to siting the railway carriage and platform have my support. I would love to see the bridge Over the harbour completed to attract more seafarers to our beautiful town and the Department to spend more money on the harbour area and quay side to make it more attractive and pleasing to the eye.
Peel Swimming Pool
Peel Swimming Pool is now on track, thanks to the hard work of the Commissioners and their endeavours to create a Western Pool Authority, but there will be cost implications on the rate payers of Peel, as well as the other joining authorities.
Pledge 2 Fishing Industry
Fishing is a much neglected but essential industry in Peel. Over the years Government have put many restrictions within the twelve mile area, which cause unnecessary hardships to fishing vessel owners, resulting in a reduction in our fishing fleet. I propose to encourage Government to review current legislation and to re-negotiate the current agreement and quotas with the United Kingdom Fisheries Department.
Pledge 3 Island Hospital
The building of the new purpose built hospital at Ballamona is something which the Island needs very much and the present administration is to be congratulated for pursuing this objective. Many difficulties still have to be overcome before finalisation of the project is realised. Until the project is completed I will be a fervent supporter to see that the voters of Peel and the Island community obtain the best medical and follow-up health care facilities possible with value for money.
Pledge 4 Senior Citizens
This group of people require my support and whilst the present Government continues to pay more than the recommended British Government minimum on many support pensions, more help for this group is necessary to help maintain a reasonable lifestyle. I would welcome open discussion with the DHSS to see what further improvements can be achieved.
Pledge 5 Economy
The Island finances continue on a sound basis but the monies generated by taxation, the finance industry and other Island resources require careful maintenance to prevent frivolous expenditure on unwanted and fanciful schemes. It is my intention to monitor and investigate any scheme prior to voting and sanctioning any expenditure.
Pledge 6 Education
Present investment on education is currently adequate, but I am sure improvements can be made to ensure that our children are rewarded with the best available educational facilities both on the Island and, where required, at off-Island educational centres.
Pledge 7 Disabled Persons
To continue and progress further financial assistance to assist, wherever possible, facilities and improvements that will enable the less fortunate amongst us to enjoy all the Island facilities which most of us take for granted.
Pledge 8 Law and Order
When compared with many off Island areas, we live in a comparatively crime free community. Our police force is to be encouraged to see that crime detection is improved and every effort is made to reduce all incidents of crime. A main concern is drug and drink related crime, and I believe that all MHK's must face reality, accept that there is a genuine problem and address this most serious issue. After spending time with policemen on duty in Peel, I appreciate that all help and assistance must be given to the police and prison service and other support offices to eradicate this growing problem. I would seek consultation with our police force to see what
further assistance Government can give to attain these ideals, be it financial assistance or a strengthening of current legislation.
Pledge 9 Finance
It must be recognised that the finance and insurance sector is the Island's largest source of income, and expansion of this sector is to be encouraged. However, the strict legislation controlling this sector is extremely necessary and I will not permit any relaxation of standards.
These are my pledges. I will not make promises which cannot be fulfilled, but I pledge to work wholeheartedly to see that Peel is represented in Government and to ensure the future of this proud City. To fulfil these pledges I need your vote - Please may I have your support, this is your future!
If you wish to see improvements in Peel, please vote for Christine Moughtin on Thursday, 22nd November, 2001.
I will endeavour to call on as many Peel voters as possible before the election. If I fail to make contact, please feel free to call me on 843466 or stop me in the street for a chat.
Are you housebound, going away or unable to attend the poll and require a postal vote, proxy vote or a sick vote? Please let me know as soon as possible and I will personally arrange the relevant documentation.
If you require transport to the polling stations, please ring 843466 at any time, either prior to or on polling day.
I need your support and thank you for taking time to read this manifesto and, hopefully, giving me your vote.
Yours sincerely
Christine Moughtin
Published By Christine Moughtin
Printed via the IOM Elections Website. www.iomelections.com
REPRESENTATION OF THE PEOPLE ACT 1995
PLEASE NOTE
The views and opinions stated within this manifesto are those of the electoral candidate and not those of 3 Legs Limited or its staff. Inclusion within this website does NOT represent any endorsement of this candidate by 3 Legs Limited.
3 Legs Limited is politically neutral in respect to this website and its contents. The above text was provided by the election candidate.
3 Legs Limited is not liable for any errors or omissions. E&OE