Ramsey - Leonard Singer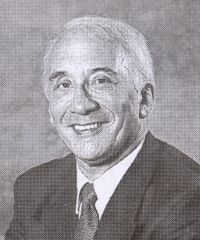 Dear Resident
Five years ago, you offered me the opportunity to represent your interests in our Parliament. I hope I have justified that confidence. I may have 'trodden on a few toes' of those in the establishment but I do not intend to change my approach. I will continue to speak out on matters of concern, probe government actions and to ask questions on your behalf
I hope that you will feel able to vote for me again so that I can continue my work and be the strong voice for the town.
I WILL CONTINUE TO PUT "RAMSEY FIRST"
THE LAST FIVE YEARS.
I have been pleased to have made the following contributions to Ramsey and the Island.
Installation of 'cats eyes' on the Mountain Road improving driver and passenger safety

Private Members Bill to make it an offence for an adult to purchase alcohol on behalf of a young person.

Private Members Bill to require parental consent before body piercing procedures permitted on a young person under 18

Introduced random roadside testing of heavy and light goods vehicles, taxis and buses to assist road safety.

Successfully campaigned for government incentives to encourage investment in Ramsey

Obtained free chiropody treatment for private and DHSS 'patients at risk' in nursing homes.

Introduction of government grants for families needing extra bedroom accommodation as their family grows

Made it quite clear that I would oppose any attempt to remove the laws that currently prevent the promotion in schools that homosexual relationships are an alternative to family life.

Initiated the protest at the unsuitability of the 'Ben my Chree' which resulted in considerable alterations to improve passengers facilities

Introduced two new 'Lollipop' crossing patrols in Ramsey for the school children and two more zebra crossings.

Publishing of a DHSS leaflet explaining the right of a person to obtain a second medical opinion

Defended the long term future of the Accident and Emergency provision at Ramsey Cottage Hospital.

Successfully' led the campaign retaining the Lord Bishops vote in Tynwald

Introduced safety kerbs at 'Hairpin Bend'
WORKING WITH OUR COMMUNITY
WORKING FOR OUR COMMUNITY
I am pleased to support the many hard-working Charity and Church voluntary groups in Ramsey and regularly attend their various find raising activities. Ramsey has a very caring and generous community.
I have regularly attended the Commissioners meetings and presented their views and concerns to a Government which often considers that north of Laxey is a foreign land.
I have been privileged to make representations on behalf of individual residents to government departments in order to ensure that their cases are properly considered and their rights protected.
I have enjoyed my regular visits to the Grammar school to talk to the pupils studying politics and help them in their course work
I have three children all being educated in state schools. I understand the pressures on families and the support they need.
My five years experience as your MHK, my membership of Ramsey Town Commissioners and my years as a Pharmacist in the heart of Ramsey, has provided the insight and experience to understand the concerns and worries of all sections of the Community thus enabling me to be able to speak up on your behalf
I LIVE IN RAMSEY so it has always been easy for me to visit residents or for them to come to see me at my home. My answer phone is on 24 hours a day, every day, to receive your calls. Tel 816307
HOUSING SHORTAGE
Them is no doubt that many people cannot afford to purchase a house. Rental values have also increased to a point beyond many people's reach. The Government has pledged to build 400 housing units per year including first time buyers housing, but at a cost of £85,000 each.
I support the proposal to introduce Housing Associations which will build dwellings in partnership with government. As well as building property to rent I would like to see an option by which the purchaser will buy into 50% of the house and pay rent. The tenant could purchase the property at a later date for an agreed sum which will take into account the rent already paid.
Hopefully, this will enable residents to take the first step on the housing ladder at a price within their reach.
RESIDENCY BILL
I supported this Bill as I believe there is no other option but to have the powers to limit population growth if necessary. In these times of success and almost no unemployment workers have to be brought from off island. With a net annual increase of 800+ residents, the infrastructure is beginning to creak to the detriment of those residents living here. The regulations being drafted will be sympathetic to ensure, for example, that families are kept together and people have the right of return. There must be a long term maximum population aim to allow proper infrastructure planning.
ECONOMIC GROWTH
I cannot agree with those who advocate a blanket reduction in economic growth. Such action and a faltering world economy would see the return of unemployment made worse by an inevitable reduction in government spending and the less well off in our society would be the first to suffer.
Our economy should be allowed to expand in a controlled manner with the intention of encouraging industries that will reduce our reliance on the finance sector. We should encourage businesses to come to the Island which are engaged in the production of low volume, high value goods reducing the need to import staff
JUSTICE FOR THE PEDESTRIAN
Perhaps my greatest disappointment was when the House of Keys rejected my amendment to the Highways Bill which would have made the Department of Transport liable if they were aware of dangerous pavements but did not repair them. At present, the DOT are only liable if an accident occurs at an area they have repaired badly. I received a lot support from people island wide who had suffered severe accidents and whose claims were rejected under the present law. My proposal was narrowly lost by 12 votes to 11 because the Council of Ministers voted en bloc against me.
If I am re-elected I intend to reintroduce this Bill in the interests of pedestrian safety
QUEENS PIER - 'OUTRAGEOUS REPORT'
The Department of Transport and Manx National Heritage presented their 'Rolls Royce' refurbishment scheme to Tynwald at a cost above £9 Million. They are aware that this outrageous figure could not be supported by either Tynwald members or the public. The Pier supporters do not want an historical monument, but a recreational facility which retains the unique view of Ramsey Bay.
I will continue to work with the 'Friends of the Queens Pier Committee' to retain the Pier at an acceptable and reasonable cost.
THE SCOURGE OF DRUGS
The Chief Ministers 5 year strategy hopefully will work in time but there is no doubt in my mind that the illegal drug situation is getting worse. Regrettably, this strategy could have been introduced 10 years ago when it was first proposed. I welcome the measures being taken to help and support those addicted to drugs. The police have to clamp down on dealers and the courts must show them no mercy.
The protection of our young people is paramount.
MESSAGE TO ALL VOTERS UNDER 23 YEARS
This is your first opportunity to vote at a general election I hope you will use your vote You can influence the outcome of an election and ensure that you elect a person who understands the needs of your age group and is working for you
I would welcome hearing from you, so please do not hesitate to contact me I live in Ramsey and have 3 children, two at the Grammar School and one in primary education and I know the pressures they will face, and you are facing We must ensure that our education system is the best, that we can ensure the success of our economy to guarantee jobs for young people and that housing is available for and your family We also have to vastly improve the provision of recreational facilities for our youth Working together in joint partnership is needed for all these matters I would be happy to hear from you and work with you
YOUR VOTE IS VERY IMPORTANT
I hope you will have the confidence to vote for me
RECENT ISSUES
BALLURE CHURCH
I protested to the Church Authorities at their proposal to demolish St. Mary's, Ballure Church on financial grounds This is a listed building and cannot be demolished at will. I felt the proposal was premature as there is over a thousand years history of this site as a consecrated place. I hope the Church Authorities will seek support from Government departments including Manx National Heritage to refurbish the Church and find other uses for the community's benefit as well as for worship. The comments I have received are all in favour of every effort being made to retain the church.
You have to safeguard the future to retain the past.
NEW PRIMARY SCHOOLS IN RAMSEY
I have been assured by the Department of Education that when the new primary schools on the Auldyn school site and Clifton Drive have been completed, there will be no specific zoning and parents will have a choice of school for their children. I sincerely hope this works in practice.
THE GREATENED FOR COMMUNITY FACILITIES
There is a need for a multi-purpose Community Centre in Ramsey. An opportunity has arisen as a new swimming pool is needed. This, therefore, is the ideal time to plan the two together on one site. I will be delighted to help Government and the Commissioners bring forward such a project to provide a facility that can be used by all sections of the Ramsey Community.
PLANNING FOR THE FUTURE
This election could well be the most significant in the history of the Isle of Man. Tragic world events have ensured that our future peace and prosperity is interlinked with, and influenced by, external factors over which we have little control.
There is now little doubt that the world economy is in recession and this will have a direct impact on our future business viability. We have to work for self-sufficiency in our island based industries, particularly agriculture.
There will no longer be the luxury of almost unlimited spending. A clear national strategy for the long term future has to he speedily put in place by the next Government to minimise the impact of any economic turndown on Island residents.
The Isle of Man will need a determined, unified Government with a strong leader who will have the qualities to ensure that all the members of Tynwald are offered the chance to contribute.
I believe that the Chief Ministers team should be approved by Tynwald members, who have no say at the present time. Such a change would give Ministers the confidence that they had their colleagues support and would produce the unity that will be needed in the future.
THE ONLY WAY FORWARD IS AS A TYNWALD TEAM.
Published by L. Singer, Woodbrae, The Crescent Ramsey
Printed via the IOM Elections Website. www.iomelections.com
REPRESENTATION OF THE PEOPLE ACT 1995
PLEASE NOTE
The views and opinions stated within this manifesto are those of the electoral candidate and not those of 3 Legs Limited or its staff. Inclusion within this website does NOT represent any endorsement of this candidate by 3 Legs Limited.
3 Legs Limited is politically neutral in respect to this website and its contents. The above text was provided by the election candidate.
3 Legs Limited is not liable for any errors or omissions. E&OE