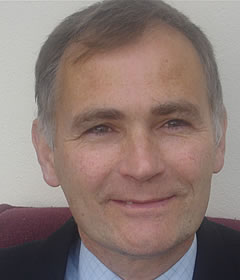 Candidate Video Interview

Manifesto
Not Yet Available
Candidate Profile
Adrian Tinkler - Rushen
Full Name
Adrian Tinkler

Age

Marital Status

Children

5

Place of Birth

If not the Isle of Man when did you move here?
July 1989
Occupation
Chartered Secretary
Political History & Views
What is your political history or relevant experience?
(A) Political: Rushen Parish Commissioner (RPC)2001 to date (Chairman 2004/05, Vice-Chairman 2003/04 & 2005/06); Chairman Southern Authorities Healthcare Trust Committee 2003/04; Trustee, Thousla Cross Trust; RPC representative on informal group examing feasibility of Drop-In Centre in the South 2003/04.

(B) Committee experience: I have served on numerous non-political committees over the years, including:
Hon Treasurer, Co Wicklow LTC
Primary School Parent-governor & Hon Treasurer
Member,Church of Ireland Parish Select Vestry (Committee)
Vice-Chairman Castletown HC
Hon Treasurer, Albany LTC
Down's Syndrome Group, Isle of Man
Council member & Press Secretary,IOM Insurance Institute
League & Minute Secretary, IOM Lawn Tennis Association
Are you a member of any organisation which guides or influences your political views or polices?
No
What are your main national issues?
SOME of the issues (in no particular order):
A complete and full review of all Government spending
Full transparency for all Government contracts with Third Parties i.e full disclosure of all beneficial and related-party interests.
Change of departmental and local authority financial and management accounting to an "accruals" basis.
De-centralisation of some Government Departments
Sensible and sensitive immigration control
Revamp of the Legislative Council
Restoration of trust by the electorate, and confidence in, the politicians that represent them!
Manx Pension Supplement eligibility to be reviewed
Fuel supplement to be implemented annually, similar to, or better than, the UK model
Agriculture: Use all means possible to assist farmers and producers in heading off the threats of Derogation
Restructure of the Ministries down to 5
Restructure of Keys membership to eliminate single-seat constitiuences and make the process fairer
What are your main local issues?
Again in no particular order:
Greater co-operation between the Local Authorities (The LA 2005 Act is a step in the right direction).
Leisure/sports facilities at Ballakilley.
Port St Mary: Regeneration is necessary. Instinctively I feel a marina would be a good idea but I have only heard one side of the story thus far.
Affordable & Sheltered Housing: There is a pressing need for more to be done.
Manx National Heritage (MNH): Improve relations between MNH and Others involved in the Meayll Peninsula.
New Southlands: To be fully utilised for its' original purpose.
Speed/Traffic: Traffic-calming measures and more pedestrian crossings especially nearer schools and built-up areas.
What do you believe you would bring to government as an MHK?
I have over 30 years invaluable financial and commercial experience and have held accounting, management posts, reporting at very senior levels.
I endeavour to set high professional standards in my work and this ethos is vital for all to adopt in Parliament.
I have sat on numerous committees and I am not afraid to state my mind or express an opinion, but will always strive for a balanced and fair debate.
I believe I can play a significant role if elected to help restore the lack of confidence that all of us have in the present Government and many, but not all, of the elected politicians.