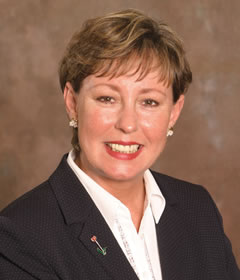 Candidate Profile
Brenda Cannell - Douglas East
Full Name
Mrs Brenda Josephine Cannell

Age

54

Marital Status

Happily married to Charlie

Children

Two sons ages 19 and 20 yrs both attending University

Place of Birth

Crosby Liverpool
If not the Isle of Man when did you move here?
1977
Occupation
Full time Member of the House of Keys
Political History & Views
What is your political history or relevant experience?
Former Press Officer of IOM Friends of the Earth. Douglas Town Councillor for Derby Ward 1992 to 1995, serving as Chairman of Public Health & Housing, Vice Chairman Society for Preservation of Manx Countryside & Environment. Served as a Member Douglas Youth Club, Municiple Association, Centenary Committee, Commercial Lettings, Appeals & Select Committees Technical Services.
Elected to the House of Keys for Douglas East in 1996, returned 2001.
Department Member over the last 10 years: Trade & Industry, Home Affairs, Transport, Local Government & Environment, Education to date. Former Chairman of Water Authority, Planning Committee. Currently Vice Chairman of Office of Fair Trading, Vice Chairman Tynwald Chronically Sick & Disabled Persons Committee.
Tynwald Select Committees: Petitions for Redress of Grievance - Jean Noreen Thompson 1996-98, Equalisation of Pensionable Age 1997-98, Jill Dugdale (Chairman) 1999-2001, Leslie Winifred Cooke 2003-04, John Michael Leather 2004-05, MA & TA Cooil (Chairman) 2004-06, Roy Redmayne 2005 to date. Castletown & Ballasalla Sub Post Offices 2002-03. Douglas Corporation Policy on Villa Marina Staff 2004-06.
Member Tynwald Committee on Economic Initiatives 2002 to date.
House of Keys Committees: Legislative Council Reform 1997-98/99, Constitution of Legislative Council Bill 2003-04.
Commonwealth Parliamentary Association: Study visit to London Westminister 1997. Plenary Conference New Zealand 1998. Irish Parliament (Dail) 1999.
Are you a member of any organisation which guides or influences your political views or polices?
In support of Alliance for Progressive Core Policies.
What are your main national issues?
A stable economy. Economic prosperity for all of the people. Good education and health services for all. Greater control on public spending. Measures introduced to mitigate against rising energy prices particularly for those living on a fixed income. Open and accountable Government, one who listens and learns by the many mistakes which have been made. Greater emphasis and focus in selling the Island and its opportunities abroad with confidence. The bringing into force of the Residency Act to provide an essential tool for monitoring and measuring growth and movement in the Island's population.
What are your main local issues?
Douglas East is the main gateway to the Island. As such we feel the impact of growth in traffic congestion, shortage of off street car parking provision, inadequate facilities for our many young people and a proliferation of apartment developments, sometimes to the detriment of our tourism accommodation provision and yet out of reach financially to our own local people. To continue to represent my constituents homes and businesses from undesirable developments.
What do you believe you would bring to government as an MHK?
The first responsibility of an MHK is public representation, something I have never strayed from. I will continue to listen to the views of my constituents and will represent them with openness and honesty. I have gained much political experience and some wisdom over the years, this together with commonsense policies and a practical approach to the many and varied problems the Island will have to face over the coming years will be essential qualities for the next House of Keys and the new Government. I wish to continue to represent my constituents with 100% total commitment.