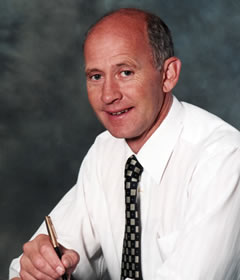 Candidate Profile
David Anderson - Glenfaba
| | |
| --- | --- |
| Full Name | David Moore Anderson |
| Age | 52 |
| Marital Status | Married |
| Children | Rachel (22), Mark (21) |
| Place of Birth | Isle of Man |
| Occupation | MHK (formerly farmer) |
Political History & Views
What is your political history or relevant experience?
Member for Glenfaba since 2001
Immediately prior Member of Patrick Parish Commissioners for 9 years
Are you a member of any organisation which guides or influences your political views or polices?
One World Centre, Manx National Farmers Union, but the strongest influence on me is what I should do as a Christian to help those in our community and the wider world.
What are your main national issues?
Protection of our economy.
Protection of our environment and culture.
Protection of the vulnerable in our society.
Protection of traditional family values.
What are your main local issues?
The protection of our environment in a constituency like Glenfaba is often to the fore. Supporting those who seek to maintain the high quality of life for the community and the individual.
What do you believe you would bring to government as an MHK?
An independent candidate who can work with others (as I have done over the last 5 years), in a team working for the good of the Isle of Man and all its people, with a strong sense of traditional family values and the ability to look at the bigger picture.
Public Meetings
Date & Time
Location
Mon 13 Nov
7 30 pm
St. James Church Hall, Dalby
Wed 15 Nov
7 30 pm
Patrick Community Centre
Thur 16 Nov
7 30 pm
Cronk y Voddy Young Men's Club
Fri 17 Nov
7 30 pm
Foxdale School
Mon 20 Nov
St Johns Methodist Church Hall