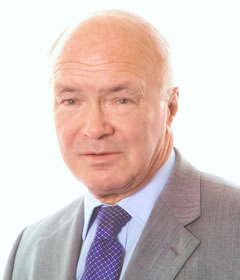 Candidate Profile
David Cannan - Michael
| | |
| --- | --- |
| Full Name | John David Qualtrough Cannan |
| Age | 70 |
| Marital Status | Married |
| Children | 3 Sons 1 Daughter |
| Place of Birth | Kirk Michael |
| Occupation | Businessman |
Political History & Views
What is your political history or relevant experience?
1970 - 79 Members Bradfield District Council and Theale Parish Council - both in Berkshire
1982 - to date Member of the House of Keys for Michael.
1986 - 89 Treasury Minister
2000 - 01 Speaker of the House of Keys
Are you a member of any organisation which guides or influences your political views or polices?
No
What are your main national issues?
To maintain the present strength of the economy and prevent unemployment - essential so as to fund the present levels of health care, education and other public services and to meet the financial commitments of existing and potential capital expenditure.
What are your main local issues?
Kirk Michael
The provision of a General Medical Practice Surgery.
Coastal Protection between Glen Wyllin and Balleria.
Jurby
Residential development of the former Army Camp and the refurbishment of the industrial estate for manufacturing and associated industries so as to make Jurby a sustainable village.
What do you believe you would bring to government as an MHK?
Twenty four years experience in every aspect of government and a commitment to influence the necessary changes in Government to bring about competence, financial probity and good management of the Island's affairs.