Candidate Profile
Geoffrey Cannell - Douglas West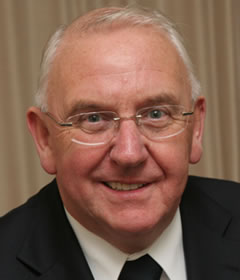 | | |
| --- | --- |
| Full Name | Geoffrey Thornton Cannell |
| Age | 64 |
| Marital Status | Married |
| Children | 1 |
| Place of Birth | Douglas |
| Occupation | Freelance Journalist/Broadcaster and Member of Board of Education |
Political History & Views
What is your political history or relevant experience?
Member of the House of Keys 1998-2001. Served on Departments of Health, Home Affairs and Tourism. Current publicly-elected Member of the Board of Education for West Douglas. Thirty years' journalistic experience including IOM Newspapers, Manx Radio and Energy FM, including nine years as Manx Radio News Editor. This embraced coverage of Tynwald, the House of Keys, Legislative Council, Government committees, local authority affairs and the original "Mandate" current affairs programme.
Are you a member of any organisation which guides or influences your political views or polices?
I am chairman of the Manx Foundation for the Physically Disabled, which champions the cause of those whose immobility prevents them from availing themselves of many services, including those of the Manx Government. Currently under consideration is a scheme for the Foundation to offer a fully-integrated independent community transport system.
What are your main national issues?
The regaining of control of who is going to be permitted to live and work in the Isle of Man.. The unacceptable requirement for private housing to be sold to meet residential and nursing costs. The burden of huge interest on the loan taken out by the Manx Electricity Authority and the notion that we now have to incur more expense by being forced to abandon the all-Island sewerage system in favour of district plants. The high cost and quality of sea transport
What are your main local issues?
The mounting fear of personal attack and damage to property, particularly after dark. Some areas of West Douglas have still to acquire disc zones to prevent abuse by all-day parkers, and stopping commercial vehicles despoiling residential areas.
I am disturbed to learn of plans to relocate the Palatine Doctors' Group Practice from Douglas to Braddan.
If elected, I would press for its retention in town, maybe at the former Jane Crookall Maternity Home currently occupied by non-essential in-town services of the DHSS. I would also press for the re-establishment of a sub-post office in the area. The failure to take heed of public opinion on either matter is deplored.
What do you believe you would bring to government as an MHK?
Integrity, hard work, honesty and total independence. An ability to see the bigger picture of national issues which beset the Island. A proven record of speaking out on controversial issues concerning individuals or matters relative to the constituency. I am not a "yes" man.
Other Documents & Information