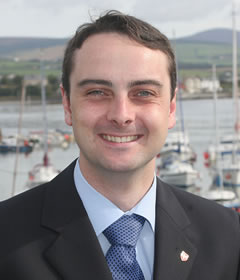 Candidate Video Interview

Not Yet Available
Manifesto
Not Yet Available
Candidate Profile
Juan Watterson - Rushen
| | |
| --- | --- |
| Full Name | Juan Paul Watterson |
| Age | 26 |
| Marital Status | Single |
| Place of Birth | Douglas |
| Occupation | Chartered Accountant |
Political History & Views
What is your political history or relevant experience?
Junior Tynwald & Commonwealth Youth Parliament
Past Chairman of the Junior Chamber of Commerce
Chairman of the Institute of Chartered Accountants' National Students' Council
Involvement in the audit of 20 of the 24 local authorities, plus several joint boards
Been involved in the Government audit for three years
Are you a member of any organisation which guides or influences your political views or polices?
I subscribe to many of the views promoted by the Positive Action Group, especially with regards to openness of government, and election of MLCs.

As a member of the Institute of Chartered Accountants and as a past Chair of the Junior Chamber of Commerce, I also bring a wider business skills set to the Keys than many others.
What are your main national issues?
Nationally, Government needs to plan for the long term. Pensions, the environment and immigration are long term social and financial issues that affect the Island now and will shape the next few decades.

I am also concerned that there are many well meaning politicians who do not understand the implications of the financial legislation that is passing through Tynwald.

We also need to ensure that we get a Government that works. That means a greater scrutiny of Government by Tynwald, greater honesty and openness by members, and an elected Legislative Council.
What are your main local issues?
What do you believe you would bring to government as an MHK?
I would bring a wealth of business and financial experience, and a willingness to hunt out waste and expose it. I would bring youth, eagerness and energy, being a true voice for younger people in the Island's legislature. I also bring a sense of humour, combined with 500 years of family history in Rushen to provide a well rounded candidate with what it takes to plan for Rushen's, and the Island's, future.
Other Documents & Information