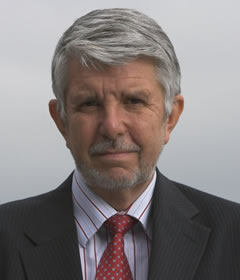 Candidate Video Interview

Not Yet Available
Manifesto
Not Yet Available
Candidate Profile
Phil Braidwood - Douglas East
Full Name
Robert Philip (Phil) Braidwood

Age

57

Marital Status

Married to Lynda for 33 years

Children

2 - a daughter Rachael and a son Adam

Place of Birth

Bolton, Lancs
If not the Isle of Man when did you move here?
1951 Aged 2
Occupation
MHK
Political History & Views
What is your political history or relevant experience?
Member of Onchan Commissioners 1983 - 1988 (Resigned when the family moved into Douglas)
Elected to the House of Keys at a by-election in 1995
Member of DoT with responsibility for Ports 1995 - 1996
Re-elected in 1996
Member of DLGE with responsibiliy for Environmental Health and Safety Division. Nov 1996 - 1999
Member of Treasury 1999 - 2001
Chairman of Financial Supervision Commission 1999 - 2001
Re elected in 2001
Minister of Home Affairs 2001 - 2005
Chairman of the Communications Commission 2001 - 2005
Minister of DoT 2005 - todate
Are you a member of any organisation which guides or influences your political views or polices?
No
What are your main national issues?
Maintaining a healthy economy to enable continued investment into Island services, such as healthcare, education and social amenities.
Provision of affordable housing.
Immigration and residency control. Ensuring there is no negative impact on the Island in relation to protecting local jobs, social services and infrastructure.
Maintaining and improving our standard of living.
Making our roads safer.
What are your main local issues?
Ensuring adequate healthcare and social services.
Improving local infrastructure, roads, amenities etc.
Securing and improving leisure facilities, particularly for the young.
Anti-social behaviour.
Inappropriate local developments and planning decisions.
What do you believe you would bring to government as an MHK?
My commitment to continue to serve and represent the people of East Douglas, in particular, and the Isle of Man as a whole.
My commitment to always act in the best interests of the Isle of Man and its people.
My commitment to be available, approachable and open minded.
My commitment to be fair in my dealings with the public.
My commitment to be a positive member of Government with a "can do" attitude to issues of public concern.
My commitment to work with other members of Government to achieve positive benefits for the Isle of Man.