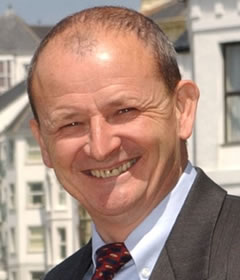 Candidate Video Interview

Manifesto
Not Yet Available
Candidate Profile
Phil Crellin - Rushen
| | |
| --- | --- |
| Full Name | Philip Henry Crellin |
| Age | 47 |
| Marital Status | Married |
| Children | Two - 16 & 18 |
| Place of Birth | Isle of Man |
| Occupation | Hotelier |
Political History & Views
What is your political history or relevant experience?
I have been a Port Erin Commissioner for over 18 years, and have filled the roles of chairman, and vice-chairman numerous times. I have served on many committees, and I am the Port Erin representative on the Marashen Crescent Sheltered Housing Committee. I have, with my wife, run the Balmoral Hotel Port Erin for over 20 years, and my business experience as a self-employed person has given me a vast experience in dealing with people and being responsible for my actions.
Are you a member of any organisation which guides or influences your political views or polices?
No, I am an independent candidate who believes that it is vitally important that in the next parliament we have MHK?s who are prepared to stand up for the island, not to toe the ministerial line, work for the future, say what they think, and vote no if policies are not for the greater good of the island.
What are your main national issues?
The problems that face our island are wide and varied; housing, first-time-buyer support, the welfare state, pension provision, healthcare, energy and the environment, legislative council reform, and the performance of our government must all be dealt with. Without housing, we cannot hope to sustain our present levels of growth, and the creeping dismantling of our welfare-state, and pensions must stop.
We must do more to care for our environment by reducing, recycling and re-using our waste, and it is vitally important that we take steps to support people wishing to reduce their energy consumption in the face of rising fuel bills. The Legislative Council should be popularly elected by an island-wide vote.
What are your main local issues?
The government must use its buildings outside Douglas to create employment in our villages and to decentralize amenities. A second visit to the Port St. Mary Marina plans must be welcomed, but further studies on its effects both environmentally and economically, and public consultation should be undertaken so as to be meaningful to all parties. The Ballakilley project to create recreational areas between Port Erin and Port St. Mary needs to be looked at seriously and negotiations need to be re-opened and re-energised. The outskirts of Rushen need to be protected from sprawling development, in order to save our countryside, the government needs to make brown field development a bigger priority.
What do you believe you would bring to government as an MHK?
The passion for the Isle of Man I have always had. My experience in business and local politics, but above all my belief that something has to change in the Manx political arena. I believe that the most important changes needed are responsibility, accountability and scrutiny. When we get these changes, Manx politicians will then be able to revive their relationship with the voters of the Isle of Man.