Candidate Profile
Rodney Clarke - Douglas South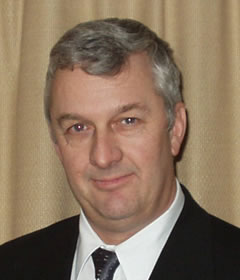 Full Name
Rodney Clarke

Age

52

Marital Status

Married to Carol for 29 years

Children

2 sons, 2 fine daughters in law and 3 grand children

Place of Birth

Chester
If not the Isle of Man when did you move here?
1973
Occupation
Property & Corporate Services Officer
Political History & Views
What is your political history or relevant experience?
Candidate in the 2001 House of Keys election, 2 years as councillor with Douglas Corporation serving on the Public Works, Housing and Pensions and Investments committees.
Most of my working life I have managed, made things work, got things done, assisted in the preparation of budgets and stuck to them.
Are you a member of any organisation which guides or influences your political views or polices?
No, I am an independent candidate.
What are your main national issues?
Government lethargy, mismanagement and lack of openness.
Most capital projects are over budget and do not meet the needs of the nation.
There is a lack of "Can Do" and failure to see things through. What has happened to local government reform and waste management?
The public feeling of government secrecy has only been enhanced over the last 5 years.
We need new blood to get these issues sorted and a willingness to work openly.

Escalating fuel costs.
While this is mostly dependant on world markets some of it is down to the MEA. Pensioners are becoming poorer as energy inflation is far outstripping pension increases. We must make sure that our pensioners are looked after in this respect. We need to be making our homes more efficient where energy is concerned and government should assist with initiatives and grants.
What are your main local issues?
Douglas town is in a constant state of regeneration. While facilities are being lost to large apartment blocks no replacements are included. Residential areas are becoming more populated, particularly on the promenade, but there are no shops or cafes for new residents incorporated in the plans. Developers should be urged to include retail units in their designs.
Anagh Coar and the surrounding area is still without a community centre and police station, Why?
The area could be kept cleaner with less litter.
What do you believe you would bring to government as an MHK?
Most of my working life I have taken on responsibility, managed, got things done and seen things through. I have helped prepare budgets and stuck to them. Should I be elected to represent the people then that is what I will do.
Other Documents & Information