New commissioner for Onchan
Publication Date: Fri, 15 Jun 2012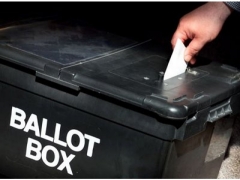 David Scambler topped the poll last night – winning his seat with 468 votes, some 122 more than his nearest rival Mark Mellor.
Third place candidate James Corrin pulled 186 votes.
There was a 15 per cent turnout at the local authority by-election.
Mr Scambler who is a paramedic says his concentration will be on ensuring value for money for the rate payers and restoring confidence in the Commissioners.